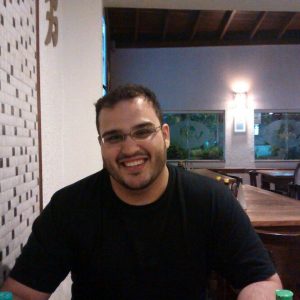 Dr. Rogério Cortez Brito Leite Póvoa
Address
Instituto de Química
Universidade Federal do Rio de Janeiro
Av. Athos da Silveira Ramos, 149
Centro de Tecnologia, Bloco A, Sala 609
21941-909, Cidade Universitária
Rio de Janeiro – RJ, Brazil
Background:
PhD student in electrical engineering at Pontifical Catholic University of Rio de Janeiro (PUC-Rio) applying artificial intelligence methods in nanotechnology. Master in the same area of the PhD and computer engineer degree at PUC-Rio. Member of the MSSM/LabMMol research group from the Institute of Chemistry at the Federal University of Rio de Janeiro (UFRJ) and the LabSem (Semiconductors Laboratory) at PUC-Rio. Experience in: (i) use of decision support methods for inference of properties and synthesis of components on the nanometric scale; (ii) development of new algorithms and indicators for machine learning and data mining projects; and (iii) developing systems using artificial intelligence to support decisions through optimization, classification and forecasting in the energy, oil and gas, and financial markets.
Publications:
2017
Póvoa, RCBL; Koshiyama, AS; Dias, DM; Souza, PL; Horta, BAC
MG-PMA: A multi-gene generalization for the parameter mapping approach. Genet. Program Evolvable Mach. 2017 (submitted)
2013
Lazo, JGL. ; Póvoa, RCBL; Villalobos, CEM. ; Bastos, ALP
Identificação de Inadimplência para o Mercado de Grandes Clientes e Poder Público. In: Congresso de Inovação Tecnológica em Energia Elétrica CITENEL, 2013.
2011
Póvoa, RCBL; Pacheco, MAC; Temporão, GP
Analysis of the Correlation between Parameters Stokes, DGD and PMD. Applied  Optics Symposium. 2011.